Why upgrade to Infopoint?
Many taxi operators look to install their own taxi free phones in locations that will generate lots of business. Normally standard plastic desktop phones attached to the wall, these taxi phones are a common sight – but rarely a pleasant one.
Unattractive and easily damaged, these phones can be a target for vandalism and even sabotage by rival taxi firms. Whatever the cause, a low-quality, faulty or non-functioning phone on your premises reflects badly on you.
Ultra-robust, easy-to-use help points
DDA hearing aid induction loop
Free calling to additional services
Remote fault monitoring and 48-hour repair guarantee
SLA-driven performance management of taxi provider
ZERO COST TO YOU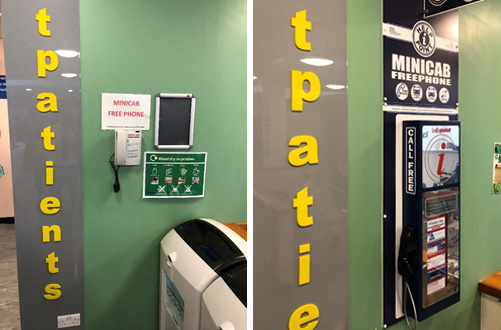 Who is responsible for your taxi phones?
Often, these problems are just the start. If your taxi phone stops working, who calls who? Who will carry out the repair, and are they qualified and insured? What about complaints? How do you monitor the legal and operational performance of the taxi operator? Do they have a valid Operator's Licence? Are you sure you're protected in relation to the Anti-Bribery Act? Do you have a contract of any kind?
Infopoint removes all of these concerns, taking responsibility not just for your taxi free phones but also the complete management of your taxi operator.
The Infopoint advantage
Infopoint help points are a comprehensive upgrade on the standard taxi free phone:
Smart, professional and highly visible
User-friendly, with a hearing aid support as standard
Extra buttons assignable to whichever services you require
Robust, vandal-resistant design
Remote fault monitoring
We install and maintain our help points, fixing any faults within 48 hours, so you can be assured of reliable performance.
Taxi operator performance management
We also take on management of each site's taxi provider, working with them to resolve any issues and ensure that they deliver a competitive, prompt, professional service for your staff and customers.
This includes:
Vetting each taxi firm before approval
Inspecting and retaining up-to-date copies of operator licences and insurance documents
A binding Service Level Agreement (SLA) covering all aspects of service including vehicles standards, fares and pick-up times
Ensuring compliance with anti-bribery legislation
Monitoring call volumes and response times
How come upgrading to Infopoint costs nothing?
Taxi operators pay for the upgrade because our service helps them too, by providing an extremely reliable taxi free phone that increases the volume of bookings they receive with minimal downtime caused by faults.
You get brand-new help points, calling to additional numbers free of charge, ongoing maintenance, a better, fully managed taxi service and – above all – peace of mind. All free of charge.
Call us now on 01223 420020 to find out more